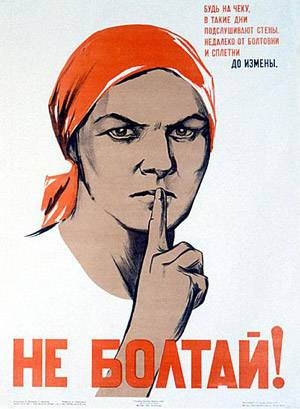 I have always admired the veteran Russian men and women in their baggy suits and medals from WWII, "The Great Patriotic War." They suffered so much—and survived. Several of these men were the "guards" at a desk by the door to our office building in Moscow. If they knew you, they would shake their head in their gesture of acceptance.
One day, during the time of celebration of the end of the war, Victory Day,I was invited down into the basement where there was a lunch room and was asked to give a talk. I made it short and said wars were not started by men like them, and me. It was politicians who made wars. They all applauded and shook their heads in agreement. When I told them I drove a tank in the Army, then I was really accepted. Then they gave me a poster, one like we had in America. It was a woman with a red head scarf and a finger to her mouth with the admonition "Don't Talk." (See above.) The American one read "Loose Lips Sink Ships."
That poster hangs in my office today.After that, I was always treated with extra respect.
Learn more about Russians. Buy here "Walking on Ice, An American Businessman in Russia". Your comments are welcome.